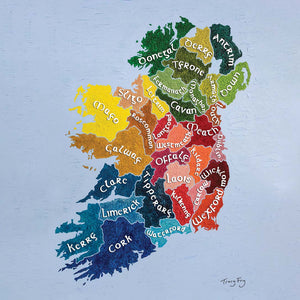 From an original painting of a map of Ireland painted in thirty two different colours.

 Elevate your table with this exquisite Map of Ireland coaster. This Irish coaster, featuring an eye-popping painting of the Emerald Isle - is sure to spark conversation! This quirky coaster is the perfect way to add some zest to your abode and keep those Irish vibes alive. It's also ideal for gifting to your Irish-loving friends or anyone in need of a touch of extraordinary home decor.
Also available to adorn your walls as a print and to express your sentiments as a greeting card.
Crafted in my studio in Dundalk Co. Louth, Ireland

Crafted from high gloss mdf and measures 9cm x 9cm